When we bought our house it was full of brass fixtures.  Not my thing.  Over the past five years, we have slowly changed out many of the fixtures.
The light fixture in our boys' bathroom was in desperate need of a change, but I really wanted to find a way to reuse what we already had.
This is what I started with.  Flowers on the glass, and a brass fixture.
I decided to replace the glass with mason jars.  I found inspiration on how to make the mason jars work from Crunchy Betty.  I'm not creative, but I'm pretty good at stealing other people's ideas.
I spray painted the light fixture, mason jar bands and the two light fixture nuts with oil rubbed bronze spray paint.
And I totally forgot to take a picture after I spray painted so just imagine.
While the paint was drying, I started working on the mason jar lids.  The light fixture glass was held on with this metal thing.  It twists onto the light bulb socket and holds the glass in place.
I used a sharpie to  trace the inside of the metal thing (I have no idea what it is really called) on the mason jar lid.  Then I sweetly asked my husband to drill a hole in the lid for me.
I was going to drill the hole out completely (and by "I" I mean ask my husband to do it), but my husband had a better idea. He drilled one hole and then used a pair of tin snips to cut the rest.
Next we hung the fixture back up in the bathroom.
You can see that the mason jar lid and band have been attached to the fixture and see how the metal thing twists on the light bulb socket to hold the lid in place.
Then we twisted the jars on.
Lights off.
Lights on.
Project cost = $1.85 after tax.
Fixture = Free
Mason Jars = $0.62 each or $1.85.  I would have loved to use some old mason jars from my grandmother or great grandmother for this project, but I didn't have any.  You could also find old jars at garage sales or goodwill.
Spray Paint = Free.  I already had it.  It's about $4 at Lowes.
I absolutely love the way this project turned out!
Have you ever remade a light fixture?
~Laura
Linking to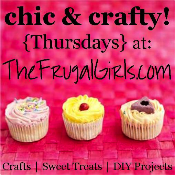 Pin It